CPCCLSF2001A Licence to Erect, Alter and Dismantle Scaffolding – Basic Level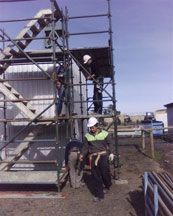 CPCCLSF2001A  Licence to erect, alter and dismantle scaffolding basic level – Duration 5 Days plus pre-work.
(A Learner's Workbook must be completed prior to the course in order to meet the course nominal hours.  The Learner's Guide & Workbook will be sent to you electronically at the time of enrolment).
Pre-requisites: Nil
| | |
| --- | --- |
| Unit descriptor | This unit CPCCLSF2001A  Licence to erect, alter and dismantle scaffolding basic level specifies the outcomes required to erect, alter and dismantle scaffolding at the basic level, consisting of scaffolding work connected with the operation or use of modular or pre-fabricated scaffolds, cantilevered materials hoists with a maximum working load of 500kg, ropes and gin wheels, safety nets and static lines, and bracket scaffolds (tank and formwork) for licensing purposes. |
| | |
| --- | --- |
| ELEMENT | PERFORMANCE CRITERIA |
| 1.   Plan job. | 1.1. Task to be undertaken is assessed.1.2. Potential workplace hazards are identified.1.3. Hazard control measures are identified consistent with appropriate standards to ensure the safety of personnel and equipment.1.4. Site information is obtained.1.5. Scaffold, associated equipment and scaffolding equipment are identified from site information and in consultation with appropriate personnel (where applicable).1.6. Safety equipment is identified.1.7. All forces and loads exerted on and by the scaffold and/or scaffolding equipment are determined and calculated.1.8. Appropriate communication methods are identified with appropriate personnel. |
| 2.   Select and inspect plant and equipment. | 2.1. Scaffold, associated equipment and scaffold equipment are selected and inspected according to procedures and site information.2.2. Safety equipment is selected and inspected according to procedures.2.3. All defective Scaffold, associated equipment, scaffold equipment and safety equipment are isolated according to procedures.2.4. All defective Scaffold, associated equipment, scaffold equipment and safety equipment are reported and recorded according to procedures.2.5. Communication equipment is selected and inspected for serviceability (where applicable). |
| 3.   Set up task | 3.1. Appropriate hazard prevention/control measures are applied to the work area according to procedures.3.2. Ground suitability is checked.3.3. Appropriate footings are prepared to support scaffold and scaffold equipment according to procedures and the appropriate standard.3.4. Scaffold and scaffold equipment are prepared for erection according to procedures and the appropriate standard.3.5. Safety equipment is fitted and secured according to procedures (where applicable).3.6. Scaffold and scaffold equipment are positioned for work application and stability according to procedures and the appropriate standard. |
| 4.   Erect scaffold and scaffold equipment. | 4.1. Scaffold and scaffold equipment are erected according to procedures and the appropriate standard.4.2. Work is conducted safely at heights including safe and effective use of safety equipment.4.3. Scaffold and scaffold equipment are erected consistent with site information.4.4. Appropriate communication methods are used to coordinate the tasks.4.5. Completed tasks are inspected for compliance with the appropriate standard.4.6. Handover certificate is completed as required and handed to appropriate personnel.4.7. Excess materials from the work area are removed (where applicable). |
| 5.   Dismantle scaffold and scaffold equipment. | 5.1. Scaffold and scaffold equipment are dismantled according to procedures and the appropriate standard.5.2. Work is conducted safely at heights including safe and effective use of safety equipment.5.3. Scaffold, associated equipment and scaffold equipment are inspected for damage and defects.5.4. All damaged and defective scaffold, associated equipment and scaffold equipment are tagged and isolated according to procedures.5.5. Hazard prevention/control measures are removed (where appropriate).5.6. All damaged and defective scaffold, associated equipment and scaffold equipment are reported and recorded according to procedures and appropriate action taken. |
| | |